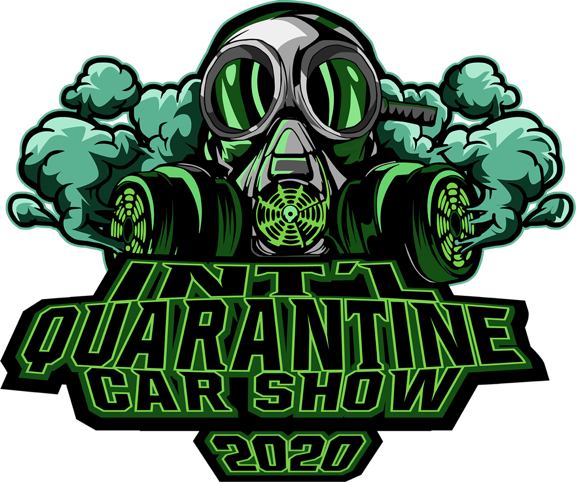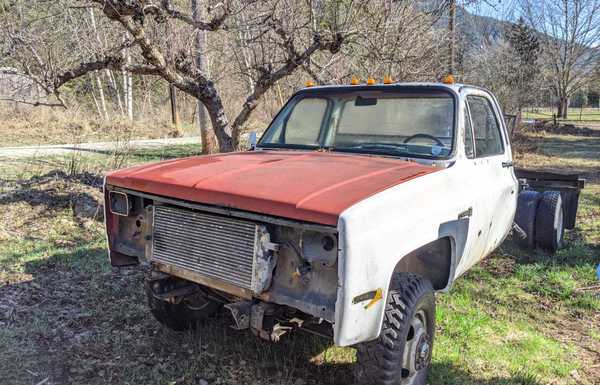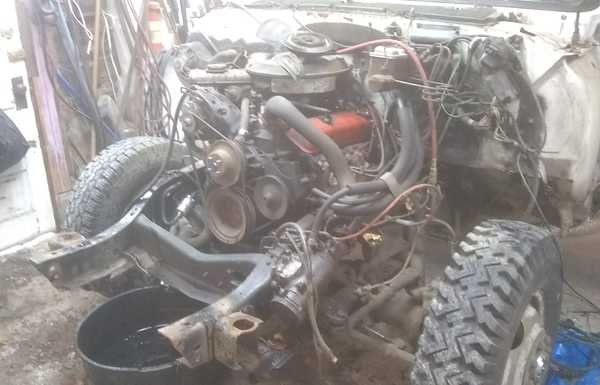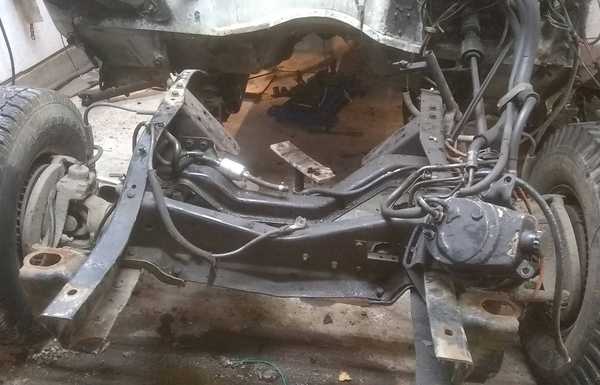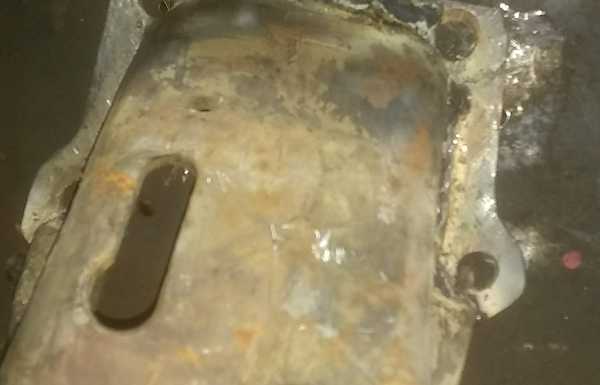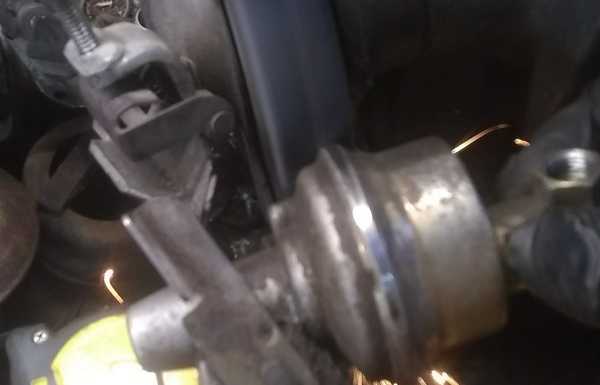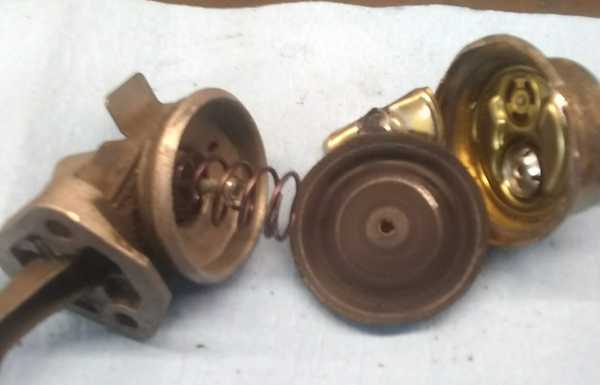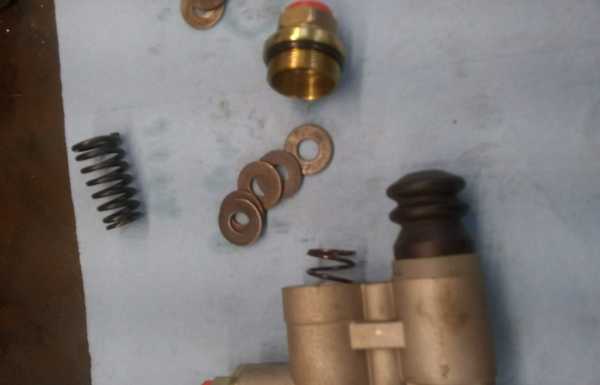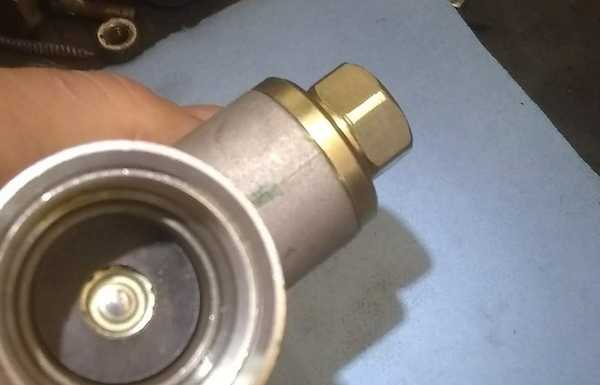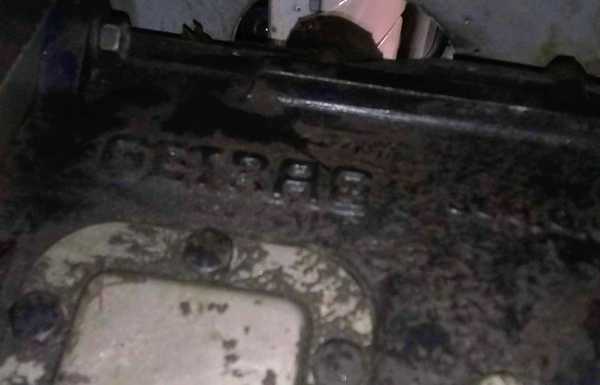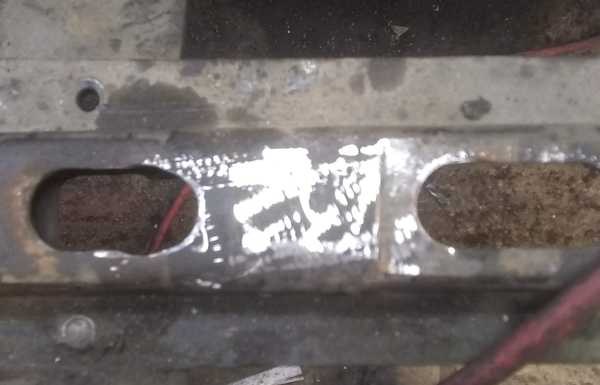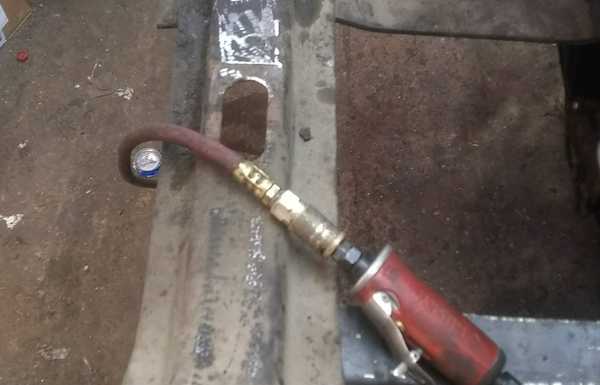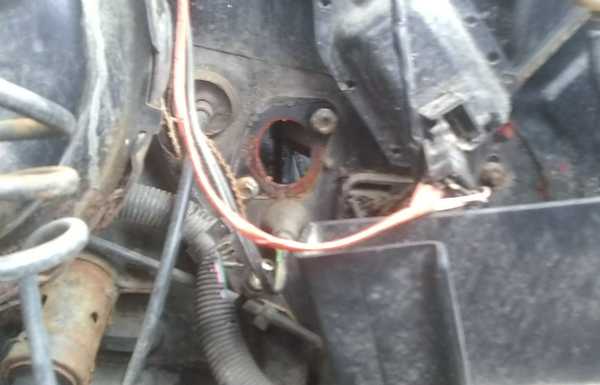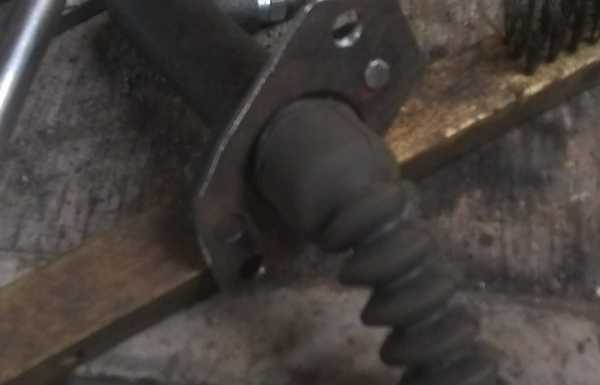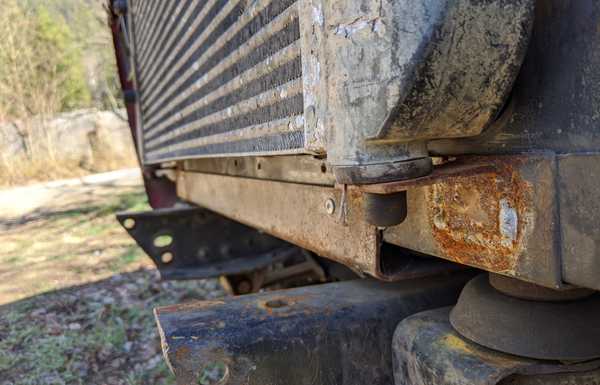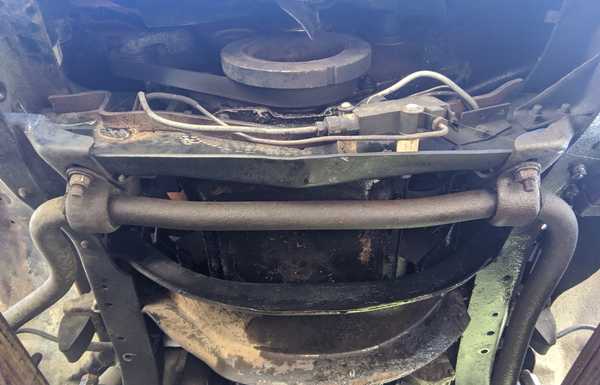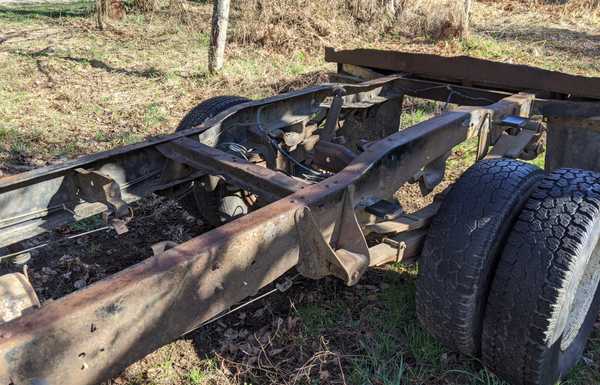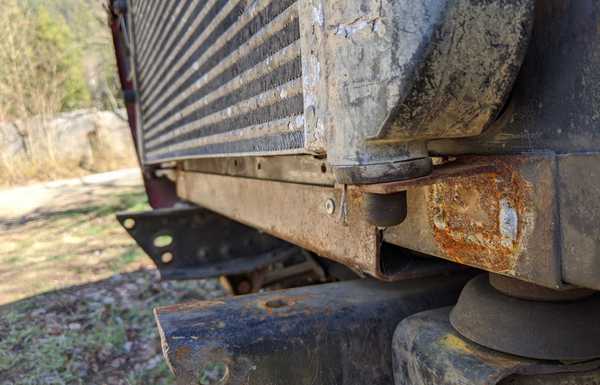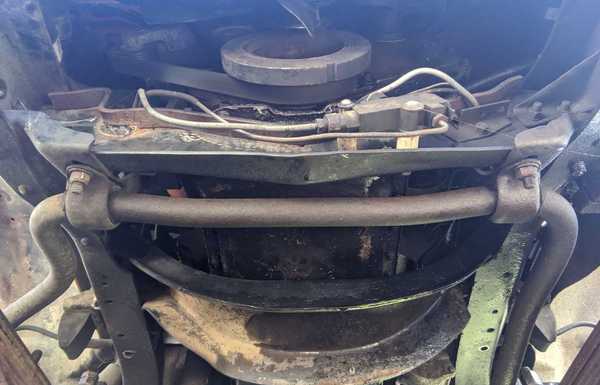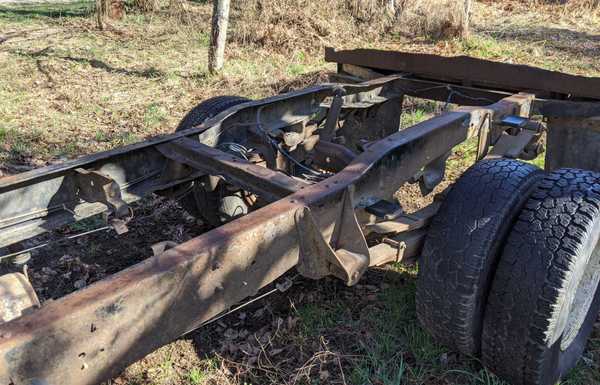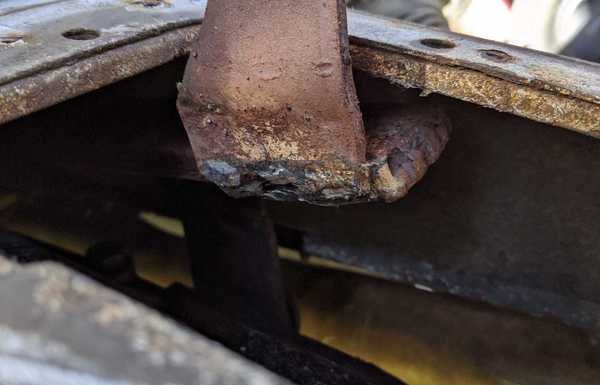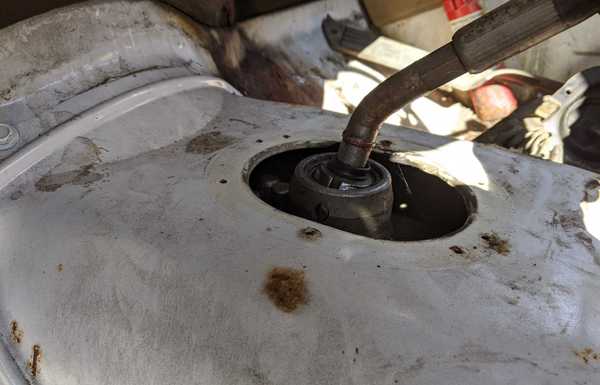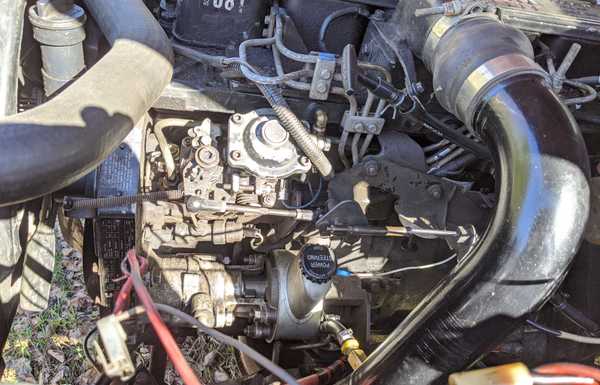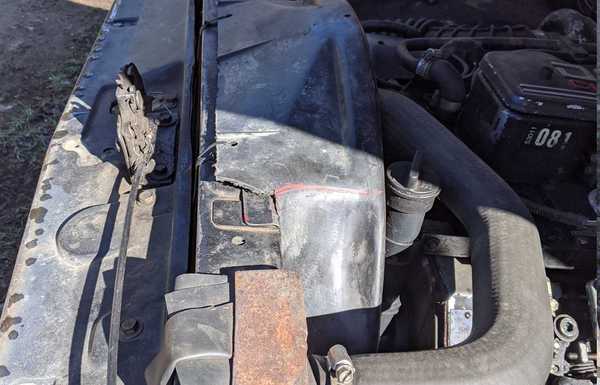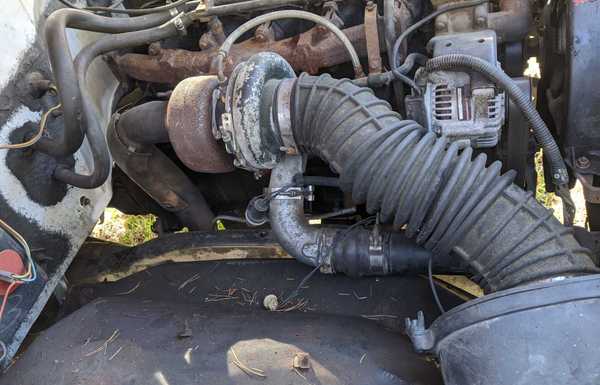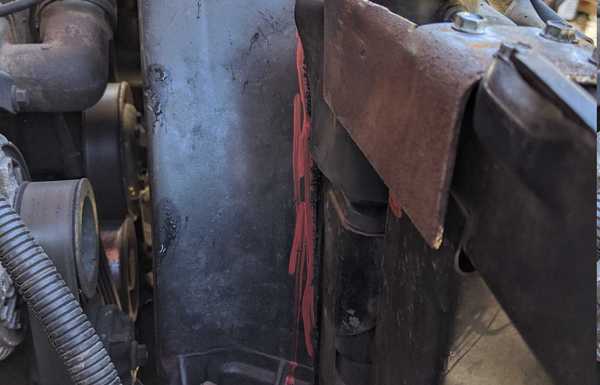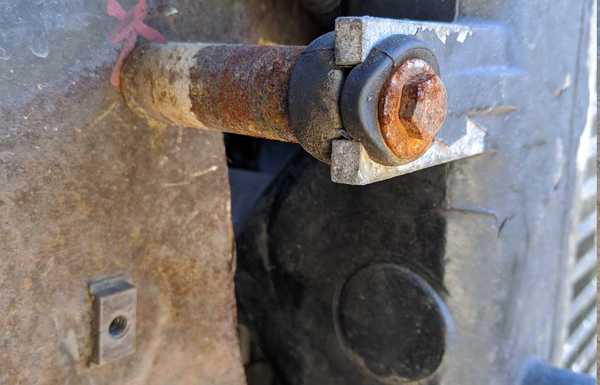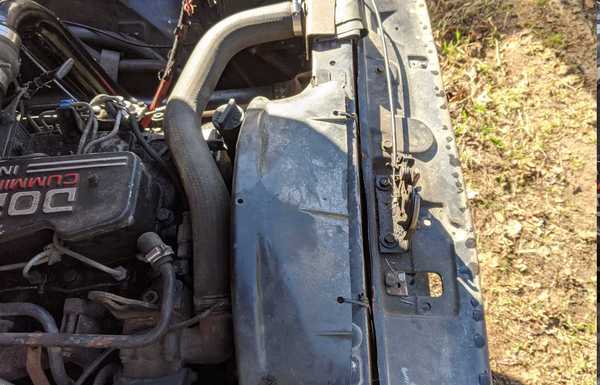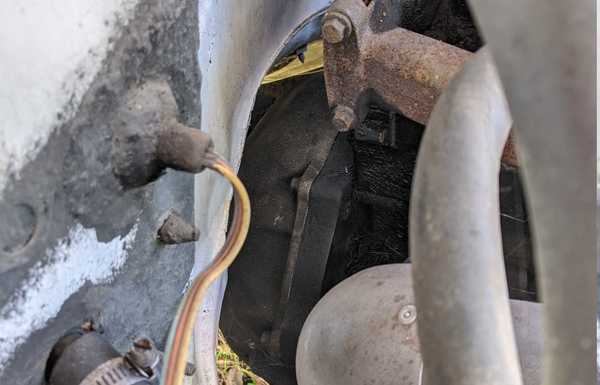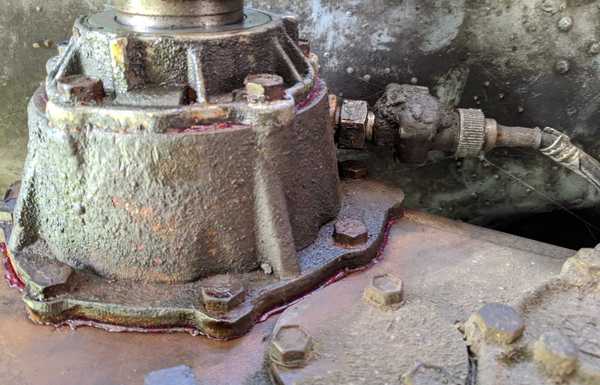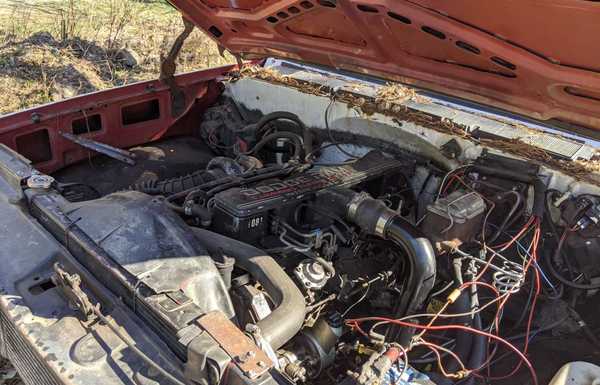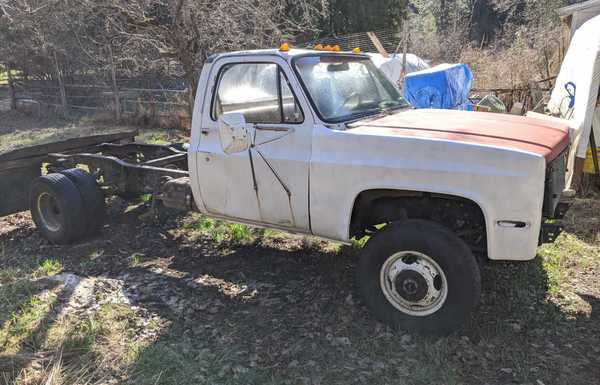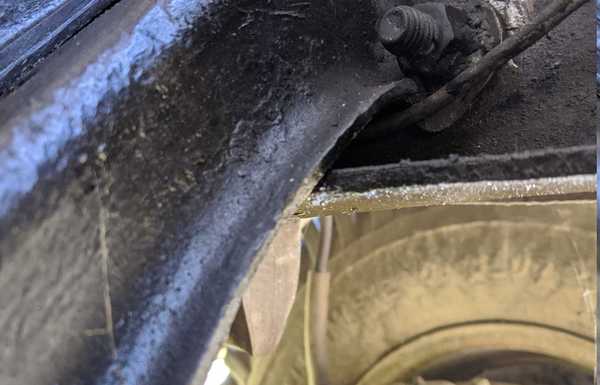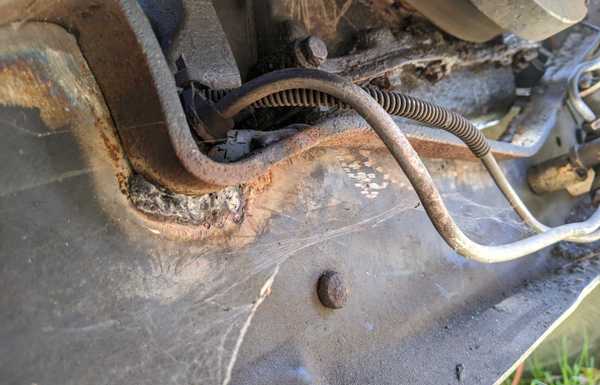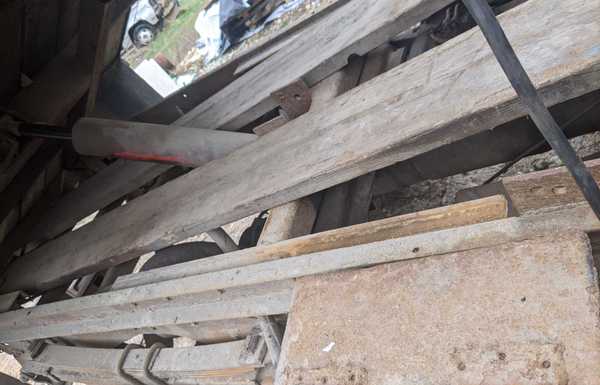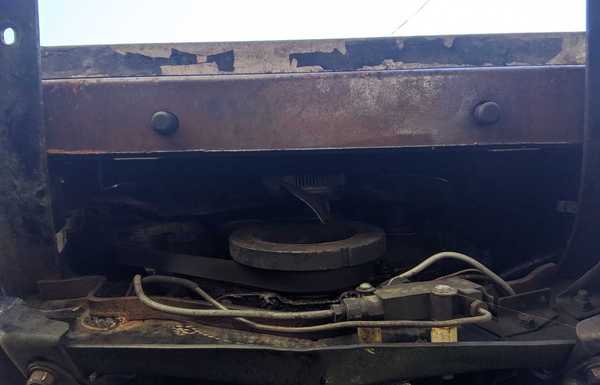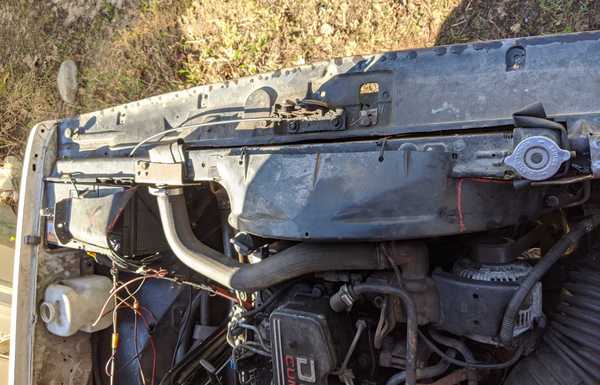 Mods
Modified rad support to take stock dodge first gen rad and intercooler. Had to make a bracket to lower rad close to frame so hood would close nice.\r
Shortened stock first gen engine crossmember and mounted in frame rails and engine sits on that with stock dodge mounts.\r
Converted mechanical clutch pedal to hydraulic, stock chevy clutch master and slave with a shortened slave push rod.\r
Got a second gen high pressure piston lift pump, cut up first gen lift pump for the lower pressure spring, swapped spring into piston pump with some washers as shims to aquire about 8psi at idle for the ve pump around 12 psi at higher rpm.\r
Swapped Chevy np205 output shaft housing onto dodge np205 to retain speedo cable.\r
Mocked up a custom transfer case shift leaver to work with the original tcase shifter opening.\r
The Chevy transfer case cross member just needed the two oval shaped holes narrowed a bit and the dodge 205 tcase mounts fit in perfectly.\r
Front driveshaft lengthened 4" rear shortened 4".\r
Swapped out the sock in the tank pickup for a diesel one.\r
Swapped out Chevy front springs for stock first gen leafs, fit nice.

Build story
The Cummins came out of a 92 automatic dodge w250 with 220k, I was moving about 1000km so instead of driving it over and risk being lured to having to maintain another dodge, I did the right thing and just took the truck apart in 2 days with a buddy, sold the cab scrapped the frame and loaded the rest of the truck into my other k30 flatdeck 6.2 diesel truck with a th400 and a loaded trailer. The trip took 3 days didn't bring any tools besides a hammer and vice grips, day 1 realized had a really leaky wheel cylinder.. geting late, found a princess auto, parked overnight, in morning bought tools- cut the brake line put some rubber inside the line folded it over, made a clamp to hold er tight. Day 2 middle of nowhere popped a dually wheel, jack on hand was'nt strong enough to lift truck up to change tire, no princess auto, anywhere in sight, drove the truck partially in the ditch to shift the weight over to the opposite side just bearly got it 1/2" off ground, spare on, on route again. Day 3 overheating and climbing a pass, popped a transmission line and puked put all it's oil, luckily brought a 5 gal bucket of atf before the trip and patched the line up. Finally got everything moved and the Cummins sat chained in for 4 years as ballast in my plow truck before starting this swap once I found this '81 k30 candidate. '81 cab and chassis 4x4 Chevy square body k30 with narrow corporate 10.5" 14 bolt dually diff and front Dana 60. Truck apears to be all original besides one fender and hood I swapped out from an 86 due to it rolling gracefully into a parked dump truck. My intent is to keep the truck as simple as possible and close to stock besides the driveline. Started off as a low millage 350/sm465/np205 4 speed non overdrive. Now is a stock 92 Cummins intercooled ve pump, getrag360/np205. I wanted lots of room behind engine to firewall for bolt access and airflow we got a few months of really hot temps here when I'm working the truck hard, also want to retain mechanical fan so got an extra 1.5" from fan to rad and about 4" from head to firewall. Few little things worked flawlessly, oil pressure sender on the 350 threads into the Cummins oil sender port as well as coolant temp sender. Hydro boost line threads into Cummins power steering pump and just teed all the returns. While I had everything out just resealed all input and output shafts, did the kdp, threw in new oem Sachs 13" cast presure plate, clutch and flywheel.\r
I love squarebody trucks, have had many over the years, they drive really smooth are super simple and have a vast range of interchangeable parts plus they look awesome. This truck will get a dump bed on it eventually I got on another truck. It is drivable but still needs... hours, been keeping the budjet low and collecting spare trucks slowly over time for parts. I did this swap because living in the mountains you really need that diesel torque plus the millage and it's just a phenomenal engine, been running one for about 8 years now with almost no issues with one of these modified second gen lift pumps.